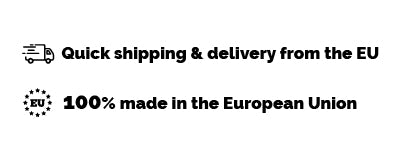 Reduce stress and anxiety
Increase productivity and improve focus
Promote general positivity 
Smell is the strongest of the senses and is best able to influence brain activity. Our scented blends are made from French essential oils of the purest quality and have high anti-viral, anti-bacterial and anti-fungal properties.  
100 ml
Our diffusers are based on perfume fragrances and are perfect for your home or office.
We guarantee a strong and long-lasting aroma -

 

30+ days!
Patented system for emitting aromas.

 

Most diffusers use rattan-based sticks that fail to properly absorb and evaporate the scent the essential oils. Our sticks are designed from natural cotton fibers. This allows our diffusers to evenly and long-lastingly radiate both the low and high aroma notes.
The

 

tinted glass bottle

 

protects the essential oils from UV rays and solar radiation - effectively ensuring the preservation of the quality of our aromas. 
It does not contain parabens, preservatives or petroleum-based solvents.
0% plastic, because we care.
100% of the materials we use are made in the European Union.
All of our products are fully compliant with all European regulations.