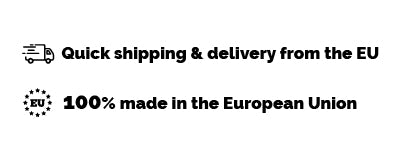 EXPERIENCE THE SCENT OF INTIMACY
The perfect blend of mandarine, vanilla and sandalwood - our Pink Club series is designed to trigger a sense of sensual intimacy. This aroma promotes emotional openness and increases physical sensuality. Calming and harmonizing, this scent will:
Increase sexual drive
Reduce stress and anxiety
Increase mental alertness
Our aroma sprays are water-based and made with French essential oils. 
Completely safe to spray on any surface, it leaves no stains or marks.
200ml - you can spray over 1000 times with each bottle!
The tinted black bottle 

protects the essential oils from UV rays and solar radiation - effectively ensuring the preservation of the quality of our aromas. 

It does not contain parabens, preservatives or petroleum-based solvents.

100% of the materials we use are made in the European Union.
All of our products are fully compliant with all European regulations.
Feminine scent
Un parfum delicat, dulce și feminin!