Tobacco Club Hanging Car Perfume 8ml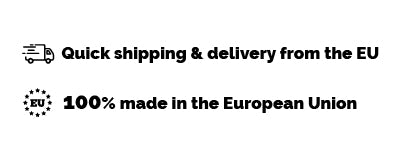 All Air Spice perfume fragrances are manufactured with the highest class eau de parfum French essences. Incomparable quality, made in the European Union. 
How to use
Unscrew the wooden cap and remove the lid.
Screw back the cap tightly and turn the bottle upside down several times until it is soaked.
Caution: Hang the bottle freely, without touching any surfaces, as it may damage them.
Store and use at temperatures from 0 to 35C. Do not expose to direct sunlight. If the safety rules described on the packaging are not observed, the manufacturer is not liable for any damage caused.
May cause an allergic skin reaction. ON SKIN CONTACT: Wash thoroughly with soap and water.
If skin irritation or skin rash occurs, seek medical attention immediately. If medical attention is required, carry the package and / or product label. Keep out of reach of children.
About Air Spice Products
Free of parabens, preservatives or petroleum-based solvents. 100% of the materials we use are made in the European Union.
Fully compliant with European regulations. Meets all product safety standards in the EU, USA and EaEU.